Bed bugs, tiny bloodsucking pests, are becoming an increasingly concerning public health issue in Canada, particularly here in Ontario.
Unfortunately, our province is a bit of a hot-spot for the pesky critters as it's home to seven out of ten of the country's worst cities for bed bug infestations according to Orkin Canada's annual ranking for 2022.
Topping the list is Toronto, followed closely by Vancouver (up from third in 2021) and Sudbury (down from second) rounding out the top three. One significant newcomer to the list was London, which went un-ranked in 2021, and rose to eighth in 2022.
According to the findings, Toronto (1st), Sudbury (3rd), Oshawa (4th), Ottawa (5th), Scarborough (6th), Sault Ste. Marie (7th), London (8th), and Hamilton (10th) accounted for the Ontario cities that ranked in the top ten.
However, also making an appearance in the 2022 list of the nation's 25 most "bed-buggiest" cities from Ontario are Windsor (13th), Timmins (15th), North York (17th), Etobicoke (18th), Mississauga (20th), Whitby (21st), and Brampton (24th).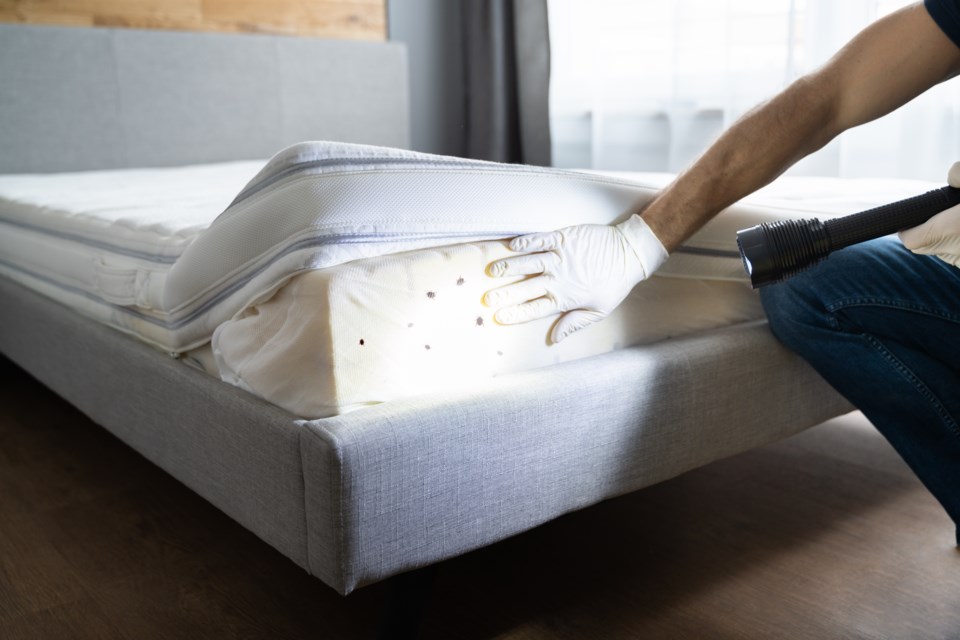 The top 10 bed buggiest cities in Canada in 2022 are:
Toronto
Vancouver
Sudbury
Oshawa
Ottawa
Scarborough
Sault Ste. Marie
London
St. John's
Hamilton
According to Orkin Canada, identifying these bothersome pests is possible by detecting small, dark stains, shed skins, or live bugs, typically on mattress tags and seams, behind headboards, under-seat cushions, drawers' creases, carpets, and buckling wallpaper.
If you happen to discover bed bugs in your home, Orkin suggests several ways to prevent further infestation, including thoroughly examining bags and clothing, drying possibly contaminated bed linens or clothing on the highest heat setting, and carefully inspecting all used furniture before bringing it into your home.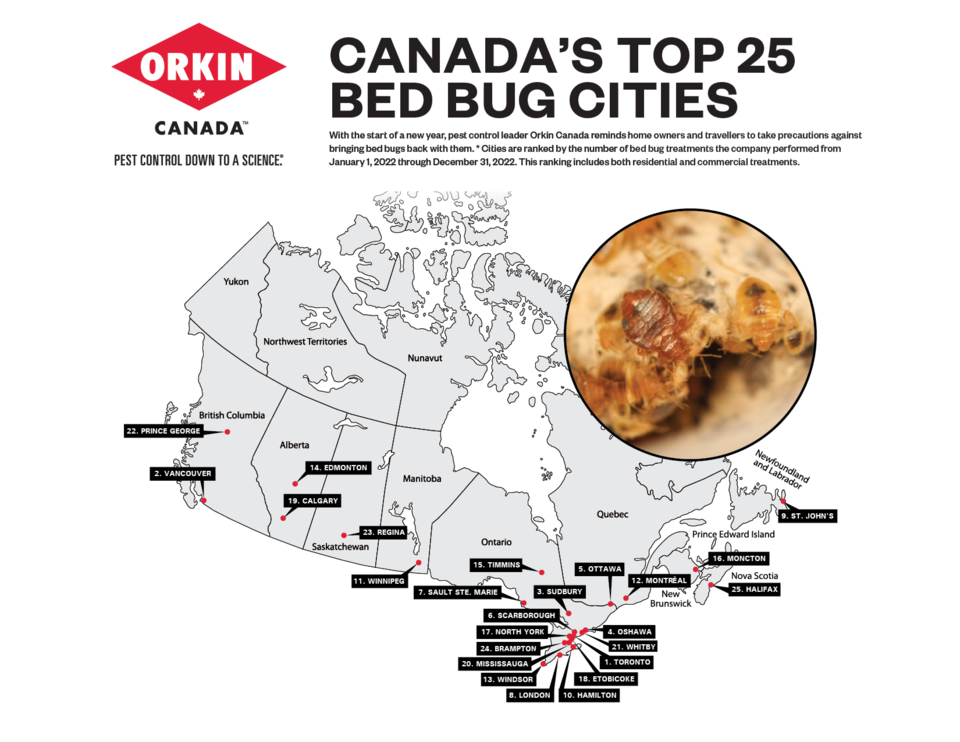 According to Orkin Canada, bed bugs are also known to thrive in areas where there is a consistent supply of food, and they can easily move from one room to another through personal belongings, clothing, vacuum cleaners, and infested furniture. This makes homes, hotels, and businesses prime spots for bed bug infestations.
As Canadians plan their 2023 travels, it is essential to take necessary precautions against bringing bed bugs back home. Orkin Canada advises homeowners and travellers to be mindful of signs and traces of bed bugs to avoid any unwanted hitchhikers.
The rankings by Orkin Canada are based on the number of commercial and residential bed bug treatments performed by the company in 2022 (from January 1 to December 31).