ONE CARE Home & Community Support Services is encouraging the community to get moving in support of their annual walkathon – The Grand Parade. This is an exciting year as ONE CARE re-introduces their in-person event, in addition to their virtual event for those unable to attend in person.
This family-friendly team event is fun for individuals of all ages and accessibility levels. It's a great way to connect with family and friends and support those in need of ONE CARE's services. The community is encouraged to join them for an in-person event in Stratford, or participants have the option to do any activity they want, where they want and the distance they want. Doing an activity is one way to participate, but there are many ways to support this event. You can be a sponsor, or donate to a participant. To register a team and start fundraising, become a sponsor, or to make a donation visit the ONE CARE website at www.onecaresupport.ca, or www.thegrandparade.org/location/stratford.
"We are excited to have the option to gather this year, safely, and feel the enthusiasm from our community in person," says Kathy Scanlon, executive director, ONE CARE. "These past few years have been an extraordinary and challenging time for everyone, and there are so many people living right in our community who rely on our essential services. Not only do our clients need our care, but their spouses and families need the support that our programs and services can provide. Anything you can give makes a significant difference to someone and their family."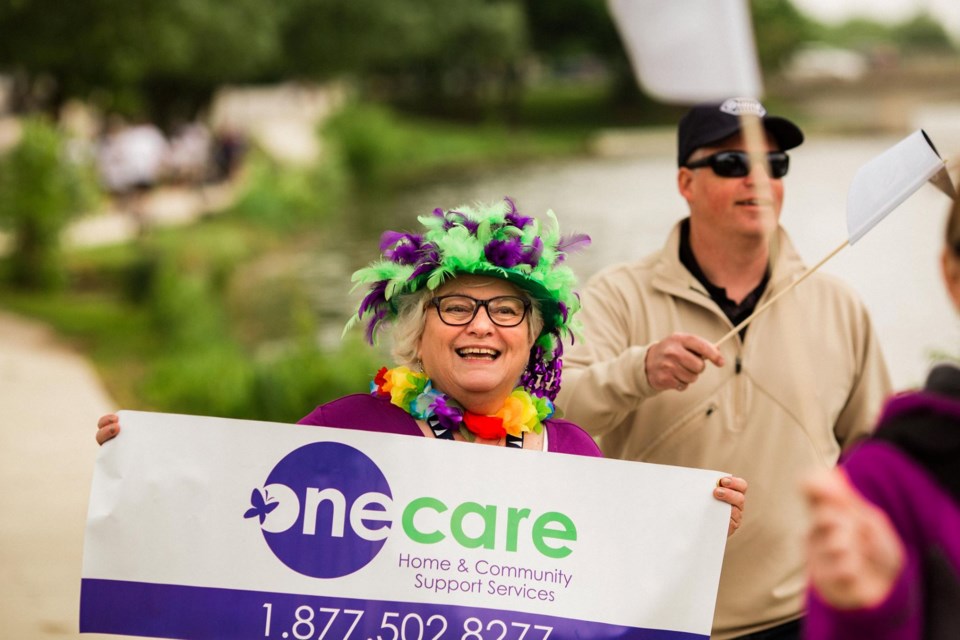 The Grand Parade is taking place on Saturday, Sept. 17 at Upper Queen's Park in Stratford starting at 11 a.m. The agency is excited to announce that local radio host, Jamie Cottle, will be on site to emcee the event, with Home & Company Real Estate to welcome walkers and manage registration. Energy will be high with DJ Harv on site, and New Orleans Pizza, Soup Surreal, and Perth Dairy Producers Committee generously donating lunch for all participants after the walk.
Foxton Fuels, Compass Minerals, and Tuckersmith Communications have generously come on board again this year as lead sponsors of The Grand Parade.
Funds raised through parade go directly towards a senior or person with health challenges in need of subsidized fees, as well as client related equipment and facilities, such as the purchase of accessible vans. ONE CARE has no regular source of funding for accessible vans and they are critical to ensuring people are able to get to the services they need. The agency is also working very hard to ensure cost is not a barrier to receiving the programs and services that clients rely on. Many require fees, and especially in these times people need help with the cost of services like Meals on Wheels and transportation. Many people in our community are elderly, alone and isolated, and trying to deal with the cost of living while also receiving the services they need. With the help from the community, ONE CARE can support them.
"I'm excited to have the option to attend the in-person event again this year," says Heather Kroetsch, wellness instructor, ONE CARE.
"I met people from the community at the 2018 and 2019 in person walks who were so appreciative of the services they received from ONE CARE, which is why they chose to walk. I see the need for ONE CARE's services in the community and want to do anything I can to enable ONE CARE to keep helping clients, especially those who can't afford our services."
Supporting seniors in your community has never been easier or more fun. Register your team, start fundraising, and join ONE CARE on Sept. 17 at Upper Queen's Park in Stratford, or enjoy an activity with your team like skipping rope with your kids, or basketball in your driveway.
ONE CARE Home & Community Support Services
ONE CARE is a community based, charitable, not-for-profit health organization local to Huron and Perth counties. ONE CARE offers a wide range of essential services to improve quality of life for seniors and older adults with health challenges, as well as caregiver relief. Programs include: adult day programs, assessments and care planning, assisted living, day/overnight respite, dining/social programs, friendly visiting, foot care, home at last, home help, In-home personal support, lifeline – emergency response, meals on wheels, social work, telephone reassurance, transportation, and wellness and exercise. Due to the ongoing pandemic, some programs may be temporarily modified. For the most up to-date information visit www.onecaresupport.ca or call 1-877-502-8277.