Leanne McPhie and Paul Thompson, co-founders of Little Leaf Cannabis Co. Inc., are motivated by a strong sense of community and a passion for the cannabis industry. Their cannabis shop may be little in name, but it is big in heart.
Community is Everything
The duo opened Little Leaf in December of 2020 with some clear goals that still motivate them today. "We want to create a space where people feel safe talking about cannabis. We have a desire to help customers select products that are best suited to their needs, and we want to protect our youth," explains Leanne, who is the Cannabis Executive Officer (CEO).
Paul, the General Cannager of Little Leaf, adds, "Serving the community and sharing our experiences is very important to us. We want to create a store that Stratford can be proud of and that they can trust for honest education."
Shopping Local Has Clear Benefits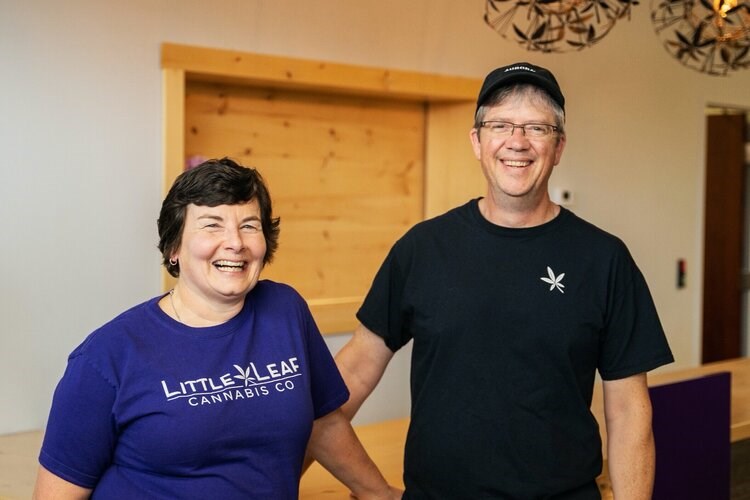 The fact that Little Leaf is owned and operated by local residents who live in Stratford is a benefit to both the community and the consumers. Locally owned stores keep the profits circulating within the local economy and local owners mean that the products they bring in are relevant to their customers.
"Our inventory selection is curated and purchased by us, not for us. We are not compensated or influenced by the licensed producers to carry their products. This means the consumer can expect honest and unbiased advice about cannabis products," says Paul.
"We get to know our customers, their likes and dislikes, and where they are on their wellness journeys. We can recommend appropriate products to meet their needs and not the needs of corporate agreements," Leanne continues. "We take the time to follow up to ensure the products are working for our customers and if not, we suggest adjustments."
Being locally owned also gives their customers an added level of privacy. "Our customer's personal data and consumption behaviours are private and therefore retained at the store. We do not sell it to any third party for monetary compensation," says Paul. "We feel a sense of responsibility for cannabis in our community, which is why we operate with integrity and transparency."
Little Leaf not only offers exceptional service to their customers, but they are big supporters of local charities. They have fundraised for a number of organizations including the House of Blessing and Optimism Place, Women's Shelter and Support Services. The team also gives educational presentations and seminars to various local organizations and committees in the community.
Little Leaf. Big Future.
Both Leanne and Paul see big things in the future for Little Leaf. "We're focused on becoming our community's primary trusted resource for cannabis products and lifestyle accessories. We also want to grow cannabis events and offer unique services beyond sales like glass cleaning, gift registry services, and classes," says Paul.
"I hope cannabis will become part of people's lifestyles, in whatever form they choose," adds Leanne. "One day cannabis conversations and consumption will become common and acceptable."
To learn more about the Little Leaf. Big Experience. Visit them online or in store located at 804 Ontario Street, Stratford.