Two of Stratford's top restaurants are shutting their doors and more could be following suit.
The closure and sale of Braai Bar and Braai House, owned by Anthony Jordaan and his Keystone Hospitality business, has landed hard for Stratford residents – in a city that has long punched above its weight in the Canadian culinary scene.
Jordaan said if there was more leeway for repaying some of their COVID-debt, including the Canada Emergency Business Account (CEBA), they would "100 per cent" still be operating in downtown Stratford.
A social media post announced the closures and spurred hundreds of reactions and comments, all expressing sadness and shock. Jordaan was touched by the commentary.
Staff were informed two days ahead of their last shift.
"When I spoke to my team on Monday," Jordaan said. "A bunch of them came in and thought that I was going to tell them, we made Canada's Top 100, or we got a Michelin star, and that's the level that they were expecting … I never in my wildest dreams thought I'd be having this conversation with 25 people, a month before Christmas."
Braai House opened in 2019, just prior to the pandemic, and over the course of numerous lockdowns they contended with hurdle after hurdle.
They "pivoted," as was often said during the pandemic, but Jordaan said that the word doesn't give credit to just how much work goes into completely shifting a business.
"Pivoting means literally changing everything. You're going from one direction, hitting the brakes, and going in the other direction."
The labour shortage meant that they could not operate more than four-days-a-week. Indoor dining restrictions meant they needed to focus on weather-dependent outdoor dining.
Coupled with the rising cost of living and the price of goods, it was a perfect storm.
Ultimately, facing a lot of pandemic-related debt, closure was the only option, even though the restaurants are now profitable again.
"We keep putting money into this, and all we do is dig just another deeper hole."
Jordaan said that through a sad week, he is impressed by his staff who came out Wednesday, the last night, and put together a memorable service.
"I don't think I've ever seen a team of employees pull together over the last week like these guys have."
Jordaan said that his next step is to grieve. He is happy to have left "a small mark on Stratford" with the restaurants. Since opening, they have consistently been the number one or number two restaurants on Tripadvisor, he said.
Now "very profitable," according to the announcement post on Facebook, he hopes that under new owners Braai House and Braai Bar can continue without financial baggage.
Jordaan's Keystone Hospitality, meanwhile, will continue to run The Bowl Bar, The Little Green Grocery, Bru Garden, and Ken's French Fries, all in Stratford.
CEBA comes due and the stress level rises in Stratford
The CEBA loan is interest-free up to $60,000 for small business and not-for-profits. It was offered during the COVID-19 pandemic.
Authorized by the Federal government and provided by numerous financial institutions across the country, the deadline to pay it is fast approaching.
Some local business owners, like Allison Skinner of Distill, a store selling Canadian designed goods, have already repaid the loan that they took out, calling it a "life-saver."
Others indicated that it is something keeping them up at night.
By paying off the loan by the deadline, 33 per cent, up to $20,000, would be forgiven. Originally, the deadline was Dec. 31, 2022, later extended by a year to 2023.
In September of this year, that deadline was again extended, this time to Jan. 18 of next year.
Revel owner Anne Campion said the last extension was laughable, an extra 18 days to find tens of thousands of dollars is not going to help, she said.
"The impossible is being asked of truly small businesses," Campion said. "We don't even know what recovery looks like."
Jessie Votary, owner of Whatever 75, a collection of fast-casual eateries under one roof, said that the last few years have been exceptionally hard for restaurants – and not just because of the looming CEBA loan deadline.
The hospitality industry in general was gutted, with numerous lockdowns creating uncertainty for owners and staff. The cost of living going up has made it more and more difficult for consumers to dine out and for dishes to have a reasonable price.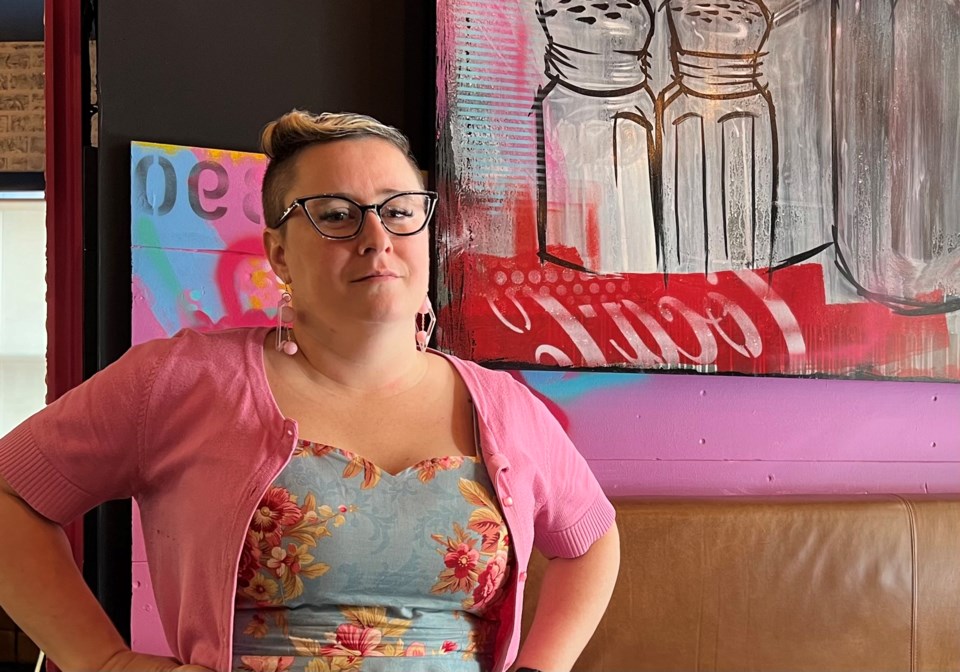 With the loan deadline coming up, she is seriously concerned about her business and the community at large.
Votary compared it to surgery. Post-op, we may be out of the hospital but we're still on the couch, unable to move, she said.
"Businesses aren't out of the woods yet," she said, estimating that by July of next year they may finally be in a stable situation.
Danna Link of Danna Nicole doesn't regret taking the loan, it was how they could survive during the pandemic, but she is concerned over how the pandemic was handled in general.
As a clothing store on Ontario Street, she was forced to shut her doors over much of the pandemic while big-box stores, which remained open because they sold groceries and essential items, were still allowed to sell clothes.
Like other business owners she wants more options and more time to pay off the loan.
Link said this year's theatre season wasn't 100 per cent back to normal and her bottom line proves it.
Jamie Pritchard, general manager of the Downtown Stratford Business Improvement Area (BIA), said that in September letters from the BIA were sent to John Nater, MP for Perth-Wellington, Chrystia Freeland, finance minister, Rechie Valdez, minister for small business, and Filomena Tassi, federal economic development agency for southern Ontario.
Representing more than 400 property and business owners in Stratford, the BIA called for an extension or outright loan forgiveness.
According to Ryan Mallough, VP of legislative affairs for Ontario with the Canadian Federation of Independent Business (CFIB), the issues facing the region are by no means local only.
Total membership, which numbers over 97,000, is split about three ways. A third of businesses said they will be able to pay it back without much issue. Another third said that they will be able to pay it back, but they're going to have to take out another loan to do it.
"And then the remaining third … that's not even an option for them, they are in trouble if the deadline is not extended."
Realistically, he said, around one in five businesses will need to shut down if the deadline is not extended.
A concerning sign for the future …
Larry McCabe, owner of Pazzo Pizzeria, Café Bouffon, and a Stratford city councillor, said that in the early days of the pandemic the atmosphere was dire and unpredictable. The very same day they reopened, Apr. 1, 2021, another lockdown was imposed, resulting in all his preparation being wasted effort, time, and money.
It was all those reasons that resulted in McCabe taking out a CEBA loan, and he is on track to pay it off by the deadline.
McCabe has been especially fortunate compared to some other businesses, noting that the pizza-business wasn't the worst industry to be in during the pandemic and being on the corner of Stratford's main street certainly helped.
The amount of real estate listings, as a business owner and a city councillor, is especially concerning to him, whether or not the CEBA deadline is a factor in those sales or not.
"I'm walking around, I'm seeing businesses that are saying that they're permanently closed. The season just ended. That's a concerning sign to me.
"I don't remember ever seeing that in Stratford, that number of small businesses up for sale at the same time."
As of publication, there are 15 businesses listed for sale in Stratford on Realtor.ca. Additionally, there are 52 commercial real estate listings posted.
McCabe believes a lot of the businesses facing debt at the moment would have more, if not for the CEBA loan, so he is grateful for that and other government relief efforts over the course of the pandemic.
His concern now is how a vulnerable tourism industry in Stratford will adapt.
McCabe reasoned that Stratford has pulled through times in the past.
"I'm so proud of the community for what it did during COVID and its response. It was remarkable. We need that energy now."