A new web series is demonstrating the region's strong culinary scene and the world-class production industry in Stratford's backyard.
Farm to Fork is a six-part web series highlighting Southwestern Ontario's agriculture and the farm-to-table movement, promoting serving local food at restaurants.
Craig Thompson of Ballinran Entertainment in Stratford conceived the series with Julian Wierzbicki of Waterloo-based Golden Section Productions. Thompson said that their production companies are always on the lookout for content and when they heard that Bell was looking for a regional project, they felt uniquely qualified to be the ones to produce it.
"We've been producing TV shows, including food shows, for the last 28 years," Thompson told StratfordToday. "The farm-to-table movement is gaining momentum as people really come to appreciate the source of their food supply. People are buying local, trusting local and want to see food on their supermarket shelves that (isn't) travelling thousands of miles or kilometres to get to their grocery basket."
Farm to Fork features host Chef Nick Benninger, owner of the Fat Sparrow Group – a group of restaurants in St. Jacobs. Thompson said that having Benninger was key to the success of the production.
"Character is everything," Thompson said. "He's also well known in the food community in Waterloo region and the area. He just had all the personality traits needed to make a great on camera host."
As a professional chef he was able to authentically speak on what they were learning and didn't require the production to do any research 'on the fly.' That expertise is crucial in keeping a production like Farm to Fork moving.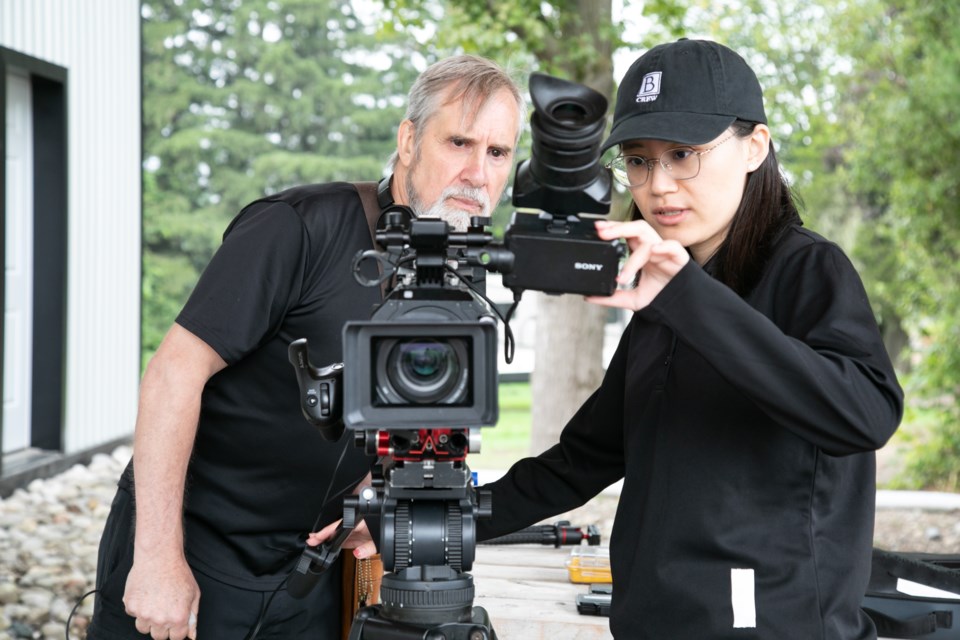 Benninger and the crew traveled across the region, visiting local farmers and touring their facilities. Six farms were featured, including Oakridge Acres Country Meat Store in Ayr, Fall Harvest Farm in Wellesley, Mountain Oak Cheese in New Hamburg, Shuh Orchards in West Montrose, the Indigenous Wisahkotewinowak Produce Garden in Kitchener, and Jewels Under the Kilt in Fergus.
As a chef who has the unique skill of cooking over an open fire, Benninger would tour the farm and then would use the ingredients to create a dish on the fire and share it with the farmers – hence farm to fork.
"Our local farmers helped shape me into the chef I am today," said Benninger. "As a farm-to-fork chef, it was an honour being able to tap into their stories and learn more about their passion for farming."
Aside from the region's excellent agricultural industry, Thompson also said that they are working hard to build southwestern Ontario up as a film and television production hub.
"Most shows are produced out of the big cities and we're very focused on finding stories and content from the region," Thompson explained. "That's the number one priority is to create content. We need to be able to tell our own stories from this region. We see them in our own backyard so why not share them with a wider audience."
Farm to Fork was produced in part through the support of Explore Waterloo Region, the tourism promotion agency of the region. The series is through Bell FibeTV1. For those not subscribed to Bell, they can watch the series and learn more about it at their website.
As Thompson said, every first season of a show is a pilot project with the goal to create more. With enough support from the audience and the broadcaster, they would like to show more of Southwestern Ontario's potential.