A tree that has given much to Stratford's youth is finally getting its due.
The sugar maple behind Stratford Intermediate School, cresting what has been dubbed "toboggan hill" by generations of Stratford residents, has been named the 2023 Tree of the Year.
Stratford city councillor Brad Beatty was at the presentation. He remarked at just how generational this particular tree is.
"My parents brought me here and I brought my kids here," Beatty said. "Can you imagine the story that this tree could tell?"
The designation was awarded by the local chapter of Tree Trust, a volunteer-based organization with the goal of preserving important trees in communities across southern Ontario. Tree Trust has awarded Tree of the Year award in Stratford for the past four years.
Previous winners have been a few trees at the Falstaff Family Centre, a sugar maple at St. James Church, and another sugar maple at the Stratford Perth Museum.
Marianne Van Den Heuvel, of the local chapter of Tree Trust, said that the Tree of the Year is decided by them and must be on commercial or industrial land.
Aside from being officially recognized, the tree of the year is also rehabilitated. This year, Tim's Tree Care worked on the grounds of the near 120-year-old tree. Given the amount of foot traffic, no grass grows and the sprawling roots have been damaged. Tim's Tree Care installed retaining walls, topsoil, and mulch.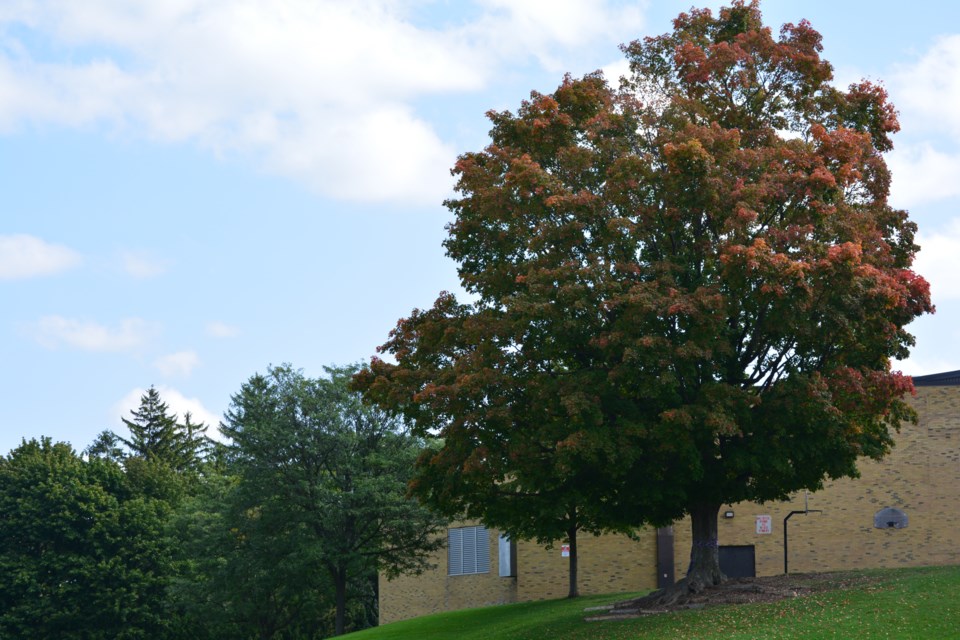 That work has cost $5,000, supported by community support and sponsors.
Toni Ellis, of the Elora chapter of Tree Trust, said that money is not wasted – it supports an asset.
According to Tree Trust, the sugar maple on toboggan hill provides about $400 every year in ecological goods and services. It intercepts about 21, 200 litres of rain water, keeping it from running off, and it stores about 3.5 tons of carbon in its trunk and branches.
Aside from the monetary value, their work will go to protect a culturally significant artifact in the community, ensuring that the tree lives for another 100 years and continues to shade generations of students, tobogganers and parents alike.