Their cardboard signs may have been soaking wet and coming apart, but their message certainly wasn't.
On a rainy Sunday afternoon a group of climate change activists took to the streets of the Festival City, marching from the Falstaff Family Centre to city hall in the name of ending our reliance on fossil fuels.
Led by Climate Momentum, a Perth County-based organization that aims to boost positive community response to climate change, the march had about 70 people come out and join the walk.
One of those walkers was Jocelyn Williams, a Grade 12 student and co-chair of Stratford District Secondary School's Eco Club.
"Climate change affects all of us, no matter how small or how big, how old or young you are," Williams said to those that gathered at city hall. "I think that everybody here today is trying to make a difference for the future generations to come."
Kathy Vassilakos, former city councillor and a self-described science-geek, also addressed the large crowd.
She spoke about the mechanics of fossil fuels and how our reliance on them agitates an already changing climate.
She explained that pulling fossil fuels from our earth and then using them injects energy into our climate systems. That energy fuels hurricanes, makes the ocean temperatures rise, can cause droughts, and fuel fires, making them bigger, faster, and more destructive.
Vassilakos also touched on skepticism when it comes to climate change. Although everyone who took the time to create signs and walk in the rain believes in the phenomena, many spoke about friends and family that are skeptical.
Simply put, Vassilakos said that people can not believe in the science behind it, but the science has the benefit of not needing belief.
"The laws of thermodynamics don't care about politics," Vassilakos said. "They don't care what you might believe or not believe.
"Climate is like a spinning top … you'll just keep spinning in perfect balance with everything, but every time you blow on it or you provide some friction where it's spinning, it wobbles. And what fossil fuels are doing is they're causing wobble and the wobble is getting bigger. And at some point the wobble is going to become so bad that the top's gonna go flying off."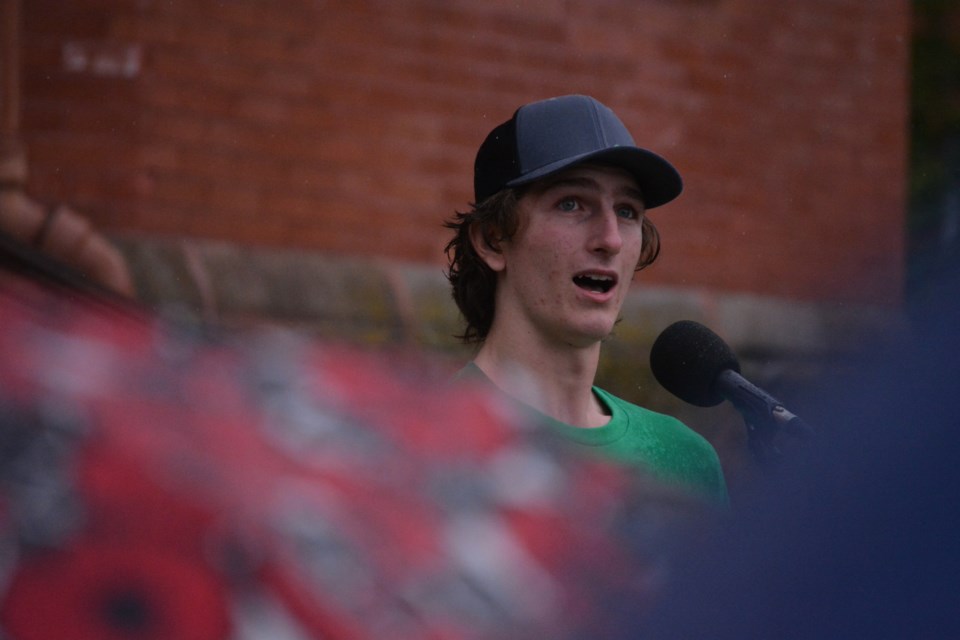 Zach Kritzer, the other co-chair of the SDSS Eco-Club, said that despite all the negative news and catastrophic events occurring, Sunday's march has him hopeful.
Kritzer spoke about his niece who is not even two years old yet. He is worried of what kind of Canada, what kind of Stratford, she will live in when she is older.
"I want her to be able to play sports," Kritzer told the crowd. "I want her to be able to go on a hike out in nature and enjoy canoeing on the Avon river or in Wildwood. I just want our future generations to have the same opportunities as we have now."
Stratford's march was not the only one occurring this weekend. It was done in solidarity with hundreds of marches occurring globally, preceding the Climate Ambition Summit scheduled to take place at the United Nations headquarters in New York this Wednesday.
The goal of the summit is to accelerate action by governments, business, finance, local authorities and civil society, and hear from 'first movers and doers,' given the urgent need to act.
Aside from global political actions, Climate Momentum gave out cards throughout the crowd in Stratford on Sunday. They listed ways that people can ditch fossil fuels and gain some 'energy independence.'
Depending on the household, Climate Momentum recommends talking with your friends and other community members, swapping out gas appliances for electric appliances like stoves or electric water heaters, heating your home with a heat pump instead of a traditional furnace, and using other forms of transit besides cars: walking, biking, or taking public transit.