Lezlie Wade said her team have had fun adding their own little twists to a beloved classic, while still remaining true to it.
Wade is directing this year's Monty Python's Spamalot for the Stratford Festival, which begins previews with a show on Wednesday night (sold out).
Originally penned by Monty Python member Eric Idle, who co-wrote the music of the show with John Du Prez, Spamalot is a stage musical parody of the Arthurian legend, depicting King Arthur and the knights of the Round Table as they quest for the Holy Grail.
The play may be familiar to audience-members who watched the irreverent and cult-classic Monty Python and the Holy Grail.
The play is often described as 'lovingly ripped off' from the Holy Grail, with characters and scenes directly from the movie, though director Wade says that is and isn't true.
"There are some things that are iconic, like the Knights of Ni and the Black Knight and the French taunter," Wade told StratfordToday. "So in some instances completely ripped off from it and then in other instances brand new."
Wade said that she grew up on Monty Python, her first introduction being the infamous 'parrot sketch.' She said she was first drawn to directing this play because she had a strong desire to retell such infectiously funny moments.
"I have as much delight in retelling them as I do in actually watching them," she shared. "That's why I was so drawn to it because I thought 'what can be better than to be in a room with material that makes me so happy.'"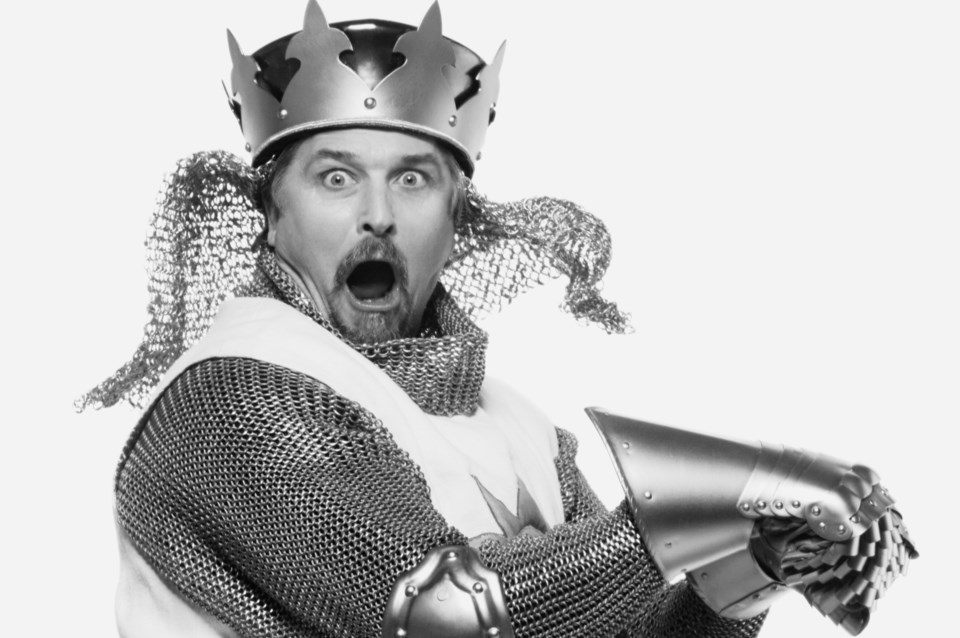 Wade has experience in drama in her eight-year career at the Festival. She previously directed An Ideal Husband and HMS Pinafore.
This time around she is drawn to comedy because of the circumstances that surround us now, reiterating the old adage "laughter is the best medicine." Compared to drama, comedy can be deceptively hard, though Wade said she isn't concerning herself with worrying about what is and isn't funny. She is trusting in the material and, of course, her performers.
"I'm so lucky," Wade said. "I have the best, best, best room in the entire world. I have a fantastic group of actors. So amazing, so generous, so lovely, so funny, so talented."
Wade is also working with Jesse Robb as the choreographer. As she explained, the show was supposed to be a part of the 2020 season before the pandemic dashed those plans. She and Robb have stayed in touch and they were able to revisit and revise some of their original plans.
Laura Burton is the show's musical director. Wade praised her work calling it "brilliant" and also noted that both of their positions are not the norm.
"I don't think too many women have been at the helm of Spamalot," Wade said, though admitted that is hard to quantify.
The show has been hugely popular since its 2004 premiere in Chicago and countless productions have taken place across the world.
"To have a female musical director and a female director, I think that might be somewhat unique … so it's kind of nice to have so many women involved. Hopefully, it will bring a little bit of a new perspective to it."
One of the ways that perspective can be seen in the production is the costumes.
A lot of discussion went into preserving the iconography of the original movie, though still making the production Stratford's own. David Boechler is the designer of the production. Wade and Boechler wanted everyone that was in the movie to be recognizable. Wade felt they had more license when it came to the women in the play, due to the fact that they weren't a part of the movie.
"We don't need to overly sexualize them," she said. "We could give them a little bit of power … we've taken some dramatic licence with those costumes, because they weren't part of the original, which is kind of great because it gave us that opportunity to play and to have fun with them.
"We've had a little bit of fun adding our own little twist to the show, which is kind of exciting."
Wade said that theatre-goers can expect a hilarious and fantastic time. Because of the nonstop nature of the story the production flies by, too.
"If there's not a hilarious scene going on then there's fantastic dancing and then there's amazing singing. There's flying cows … what more can you ask for?"
Spamalot runs at the Avon Theatre until Oct. 28. To purchase tickets visit the Festival's website.
Director's Notes is an ongoing series from StratfordToday, featuring interviews with Stratford Festival directors; discussing their project, their scope, and their goals for this year's production.
Related: Thom Allison's Rent is complicated, thrilling, a huge puzzle