There is a lot of fun in Stratford, if you know where to look. It's like a treasure map. You just have to find it.
I like to start my day at Small Mart, because there are always new candies and toys that I've never seen before.
There is so much to look at or buy, and it's all super fun. They have Pancakes-And-Maple Syrup Jelly Bellies; Alien Candy; Sour Slime; Parasite Pals; lots of different retro-candy and games; the world's smallest Slinky; Mechanical Robots; Lava Lamps; so many different kinds of Pop Rocks and Kit Kats and Reece's Peanut Butter chocolates; and all kinds of weird Jibbitz! Bruh, wow!
The Super Soaker has three different settings: straight beams, far apart, and literally all-over-the-place. According to the owner, Carrie Wreford, Small Mart is the "opposite of serious." She tells me, "It's for people who have a sense of humour." This shop is incredible.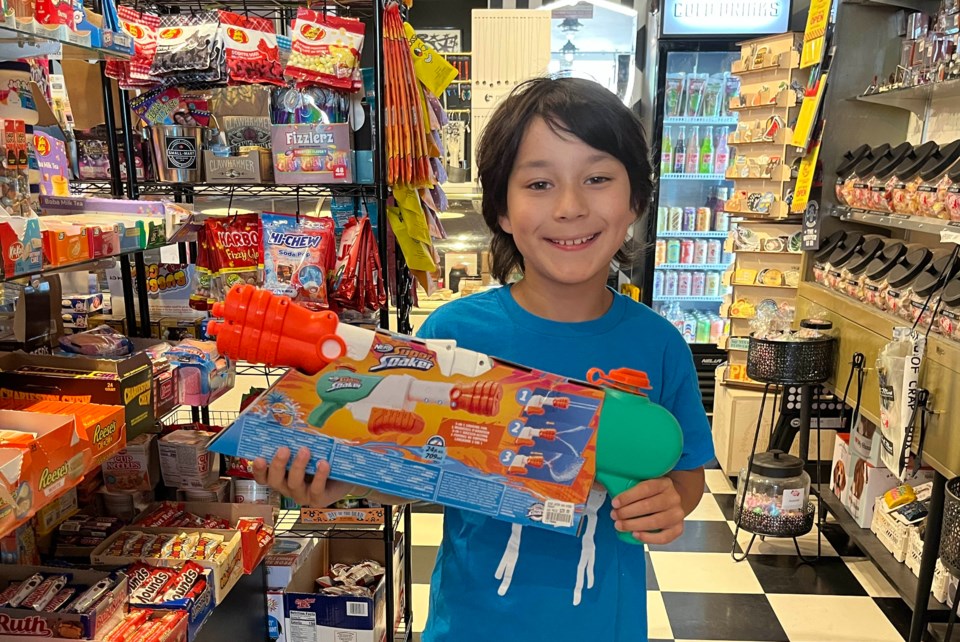 I love climbing. Usually when I'm climbing at home, I'm told to get down, but at a climbing gym, the whole point is to climb, so I can go as high as I want. Last year, Stratford got a climbing gym, called Pursuit Climbing. What makes it fun for me is that there is always a new challenge every time I go.
Every Monday they take down a quarter of the holds, put them in buckets, power wash them and hang them to dry. The next day they put them back up in a new pattern for a new climb, so that every week there is a completely different challenge.
There are bouldering lessons, auto-belaying and free climbs that are colour-coded to show the range of difficulty. They even have a "finger training board" to develop more grip strength. There's no pressure, but I like to imagine that I'm in something out of Mission Impossible.
Climbing is really cool, because it's a metaphor for life. You have to figure out how to get over your fear and keep climbing. I spoke to the owner, Cole Johnson. He told me that he wanted to share his passion for climbing and create a climbing community. "You can follow your passion and your dreams no matter how scary they may be," Johnson tells me. "And if you persevere and you work hard enough at something, you might succeed." I like the sound of that. After school, or on weekends, it's always a perfect time to climb.
I like to end my day with something sweet, like some nice gelato. We have a few different places for ice cream in Stratford, but this is Italian-style. Do you know what the difference is between ice cream and gelato? Ice cream is made with whole cream, but gelato is made with milk, and gelato is denser and creamier. It's also not as cold as ice cream, so your tongue can taste the flavours more. Angela's Gelato is a little shop that I like that opened during the pandemic. Now, I don't have to go to Italy. I can just go to Angela's!
Today I am having a cup of brownie smores that has chunks of brownie, chocolate, caramel and marshmallow all blended together. It is so soft and tasty; creamy and dreamy. I think I could have a lot of this and not get sick. I am also trying a vegan flavour, called Strawberry Basil, which tastes like freshly picked strawberries and fresh basil all in one smooth scoop. My daddy's favourite is the chocolate peanut butter, which is awesome, but today he's having the chocolate hazelnut, made with almond milk, and it is super rich!
Everything at Angela's is made locally with organic milk and natural ingredients. There are eight flavours offered, but they rotate thirty. That way they stay fresh, and there's always interesting and different flavours to choose. There are also always two to three vegan and dairy-free flavours.
Stratford has lots of hidden things right out in the open. This is just an example schedule of the many things you can do for a fun day with your friends in Stratford.