Figuring he would land somewhere near the middle of the card, Kris Allard was surprised but delighted just the same to discover he is headlining a mixed martial arts event in Alberta.
"I didn't know until I saw the poster," the 29-year-old told StratfordToday.
Allard will fight Ramil Kamilov, who will have the hometown crowd in his corner at the Absolute MMA event June 25 at the Deerfoot Inn and Casino in Calgary.
The Stratford resident has been training hard at Stratford Brazilian Jiu-Jitsu Academy.
It will be Allard's sixth professional fight. Thus far, he has won two fights, "pretty handily", and admittedly was "beaten by a better fighter" in his three losses.
Flying out west with Allard are Stratford Brazilian Jiu-Jitsu Academy owner and head instructor, Ryan O'Shea and veteran mixed martial artist Pat Pytlik. Both have been valuable members of his team and helped with training. Josh Ferguson, his boxing coach, has also been a big help, he noted.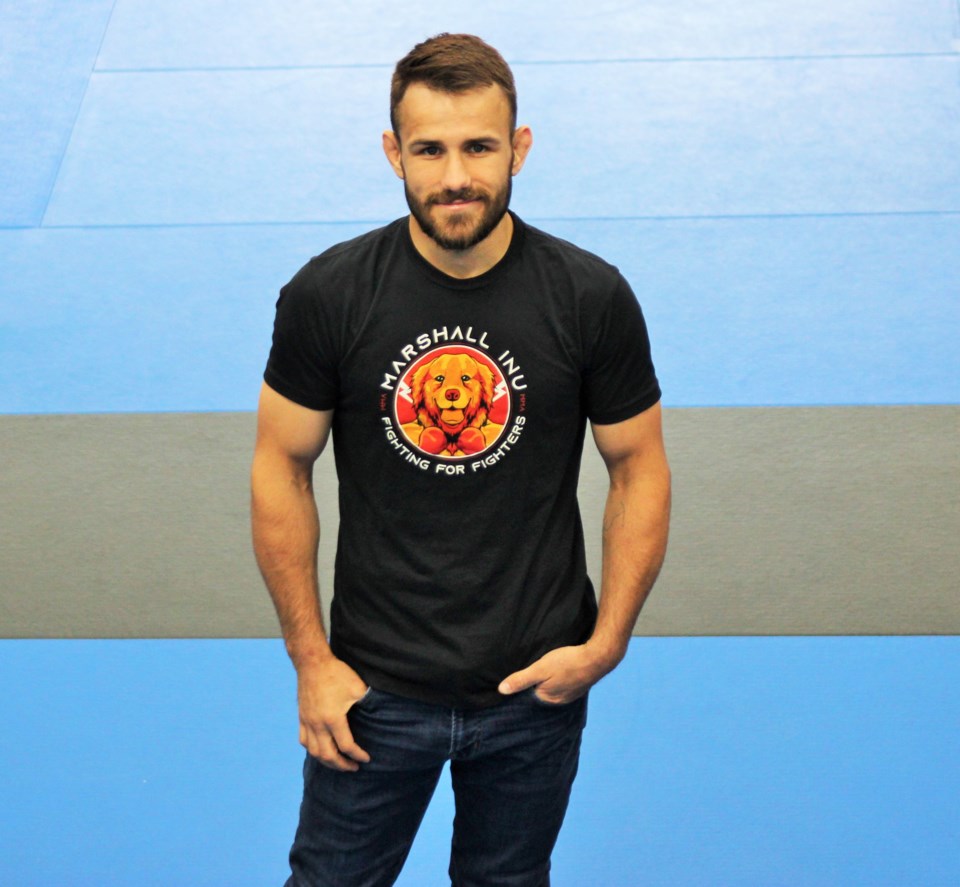 The life of a mixed martial arts fighter is as arduous as it sounds.
Allard is a Red Seal welder and works the day shift in Woodstock. He returns home and trains for about three hours each night, and does additional work on the weekends.
He also teaches classes at the academy.
Fighting at 155 pounds, he keeps a close on eye on his eating habits. Allard is thankful for the help and support he gets from his girlfriend Caileigh Walsh, a Registered Holistic Nutritionist and personal trainer - outside of her career as a corporate and estates legal assistant for Stratford lawyer Hugh McDonald.
"Making weight is definitely a hard part of it," he said of his weight goal.
Allard eats healthy, but notes that portion sizes are the main thing to watch. Food intake has to be balanced against all the work done in the course of a day and trying not to 'devour the entire kitchen'.
He does get to eat a healthy burrito – just one - with Walsh on the weekend, after some morning training is wrapped up and Walsh has finished training clients at the local YMCA.
"Nourishment is important. But you can't go devour four burritos and expect to lose weight."
The road to mixed martial arts started with karate at a young age. He drifted away to other pursuits, as young people do, but re-established his commitment, studying the martial art for about 14 years in all.
One day he stopped by the academy.
"I decided to give it a try, all of a sudden, I thought, this is what I need"
After about a year and a half of training, a friend approached about an amateur event in Cambridge. He said he might be interested.
"I got a text from him at 10 p.m. at night, asking if I was serious. I said I was, and he said good, because I already signed you up."
Allard trained hard and dropped weight but ended up fighting a much heavier fighter, losing a split decision.
"I made it three rounds with the biggest guy there."
Allard participated in four amateur events over the next few years. Then everything came to a halt because there was no sanctioning body for amateur events. As a pro, another delay ensued when the pandemic hit.
It's full steam ahead now, with a headline event on the calendar and another professional fight – his first outside of Ontario – circled on the calendar.
"I am looking forward to getting back in it and putting leather to face."
The card is being streamed at https://www.fite.tv/watch/absolute-mma-ignited/2pbgs/