Cody Sebben admitted he was "blown away a little bit" after he finished with the most votes among Stratford city councillors.
Sebben said he just wanted to finish in the top 10, assuring a return to the council table.
The councillor said he is looking forward to working with some new colleagues.
Two city councillors ran for mayor and another three councillors opted out of running again. After results were certified on Tuesday, the city has a new mayor - Martin Ritsma, and a half dozen new councillors alongside four returning incumbents.
Back with Sebben are Jo-Dee Burbach and Bonnie Henderson - both finished in the top four of voting - while Brad Beatty returns after he finished ninth. Incumbent Dave Gaffney missed out on one of 10 city councillor spots by just 21 votes, finishing 11th.
"I am happy to be back on council and pleased the citizens of Stratford put their faith in me," Burbach said after the votes were counted and released Monday night. "I look forward to getting to know everybody and coming together as a team, we have a lot of work to do...we have to hit the ground running."
The six new councillors include Mark Hunter, Larry McCabe, Harj Nijjar, Leslie Biehn, Taylor Briscoe and Geza Wordofa.
"I am surprised, it's exciting, a whole new responsibility. I have to follow through and I am committed to it," Nijjar said.
Nijjar, an IT management professional, said during his campaign that he is proud to be a person of colour. He moved to Stratford from India when he was two-years-old. He wants to build a strong community with zero tolerance for racism or discrimination.
"The team looks solid," he said of city council. "I think we can make a huge difference in Stratford."
Wordofa, who ran unsuccessfully in the 2018 election, said he is proud to bring his African-Canadian heritage to city hall. Born in Ethiopia, Wordofa moved to Stratford in 2011 and founded the Multicultural Association of Perth Huron the year after that.
"It is a new council, energetic and positive, we have to listen and be transparent.," he told StratfordToday.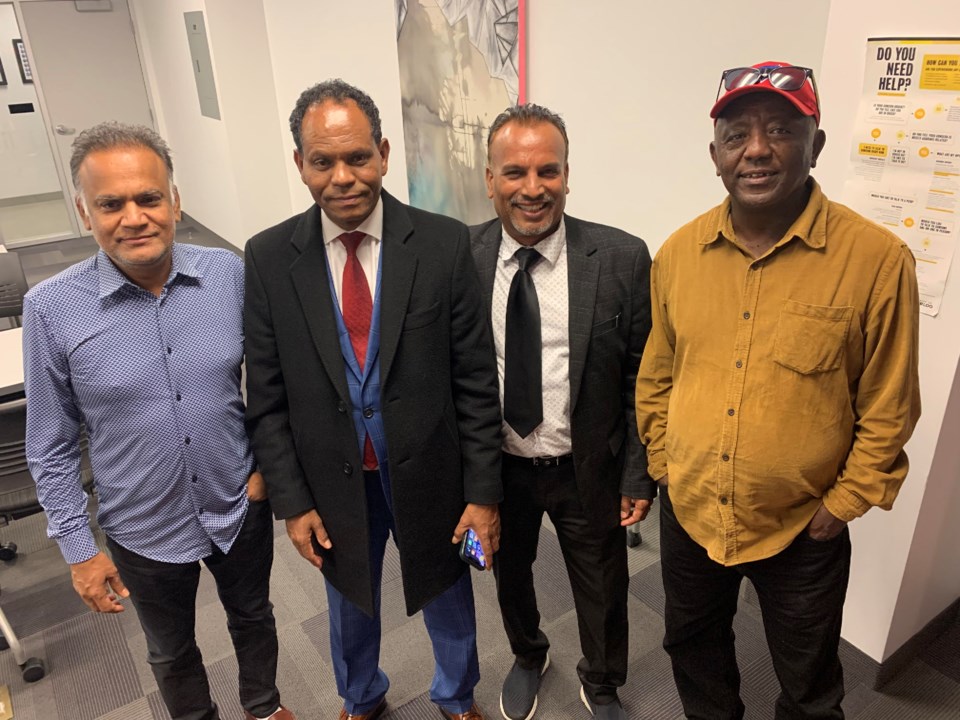 Briscoe said she is extremely honoured and thankful to Stratford residents for their support and faith.
"I want to congratulate all those who ran for their courage to step into the political arena. I am excited to work with and learn from my incredibly talented peers and am thrilled to see such diverse voices represented. I hope this inspires others to lend their voices to their community as we continue to see diverse voices populate boards and committees as we get to work on the next chapter for Stratford."
Members of city council were in agreement that there is plenty of work to do. Biehn, a church pastor and hairdresser, said housing affordability and availability was a hot topic on the campaign trail and that council and the city need to continue to work to alleviate housing issues.
"One of the biggest things on everyone's mind is getting people into housing, whether that is affordable or attainable housing, we need to get things moving."
Burbach agreed that affordable housing is a real problem.
"I look forward to tackling that as much as we can as a municipality but also looking towards our federal and provincial partners to find solutions."
Burbach said she is excited for the new council to get to work. The new term of council begins Nov. 15. The first city council meeting is Nov. 21.
"I think there will be a lot of enthusiasm and energy," said Burbach. "When people are new in the job, they are energetic and excited and ready to work. We can do good things if we pull together and work together as a team. It's a team sport."